TACOMA, Wash. — Surveillance video taken from a Tacoma gas station shows three men throw a clerk to the ground and proceed to punch and kick him in the face and ribs.
"Being a clerk is a dangerous job," said Alan Pendell.
Alan's wife, Angela Pendell, broke down in tears when she watched video of her husband being attacked.
"I'm horrified. I'm horrified that people can do that," she said.
Days later, Alan's eyes are black and one's blood-filled. His ribs are internally bruised and his neck and jaw are swollen and sore. He's also having a tough time talking.
Scroll down to continue reading
---
More news from KIRO 7
---
"I got broken bones up in here, in my sinus cavity, and my jaw is partially dislocated," said Alan.
Alan works at the 76 Station on South 84th and Hosmer Street in Tacoma.
Thursday night, Alan said he got into an argument with a man inside the store. The customer left then came back in and took two beers.
"I went outside and the video says the rest," he said.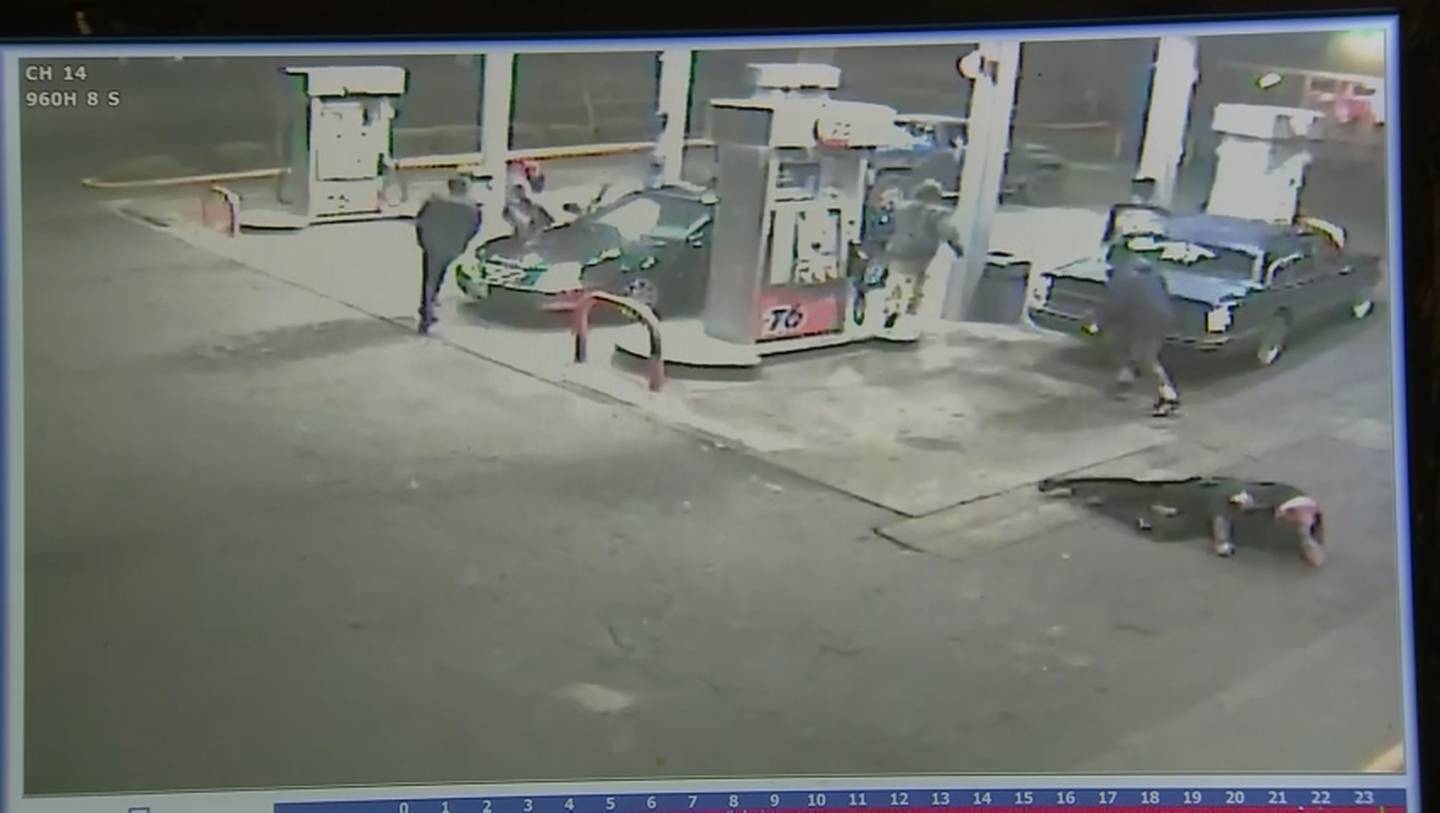 Video taken outside the store shows Alan walk up to the suspects. A few moments later, they begin pushing and shoving him. Alan gets thrown to the ground. The suspects kick him repeatedly, punch him and run away.
"Next thing I know I'm picking myself off the ground," said Pendell.
Tacoma police said the men took off in a four-door black sedan.
Alan was rushed to the hospital.
His coworkers said violence around the area is bad.
"This is the 'Wall of Shame' here, it goes over here and onto the other side," said clerk Rachel Smith.
Inside the gas station, there are pictures taped to the wall that show the people who are banned from the store.
Smith said some people stole items and others threatened or assaulted clerks.
Last month, a man attacked her.
"Right before he hit me he said, (expletive) I'm going to lay you out, and he punched and his hand went right across the front of my throat," said Smith.
Smith is OK, but Alan's road to recovery could take months and multiple surgeries.
"I want these guys to know that they're cowards. Only cowards beat on somebody and then run away," said Angela.
Anyone with information about the crime is asked to call the Tacoma Police Department.
© 2020 Cox Media Group