PORT ST. LUCIE, Fla. — A Florida man is accused of strolling into a Port St. Lucie nursing home and smothering his ex-girlfriend's 95-year-old boyfriend in his bed, an act he later described as his "life goal," according to court records.
William Eugene Hawkins, 47, of Vero Beach, is charged with first-degree murder in the Jan. 5 death of Robert Morell. According to St. Lucie County Jail records, Hawkins is also charged with grand theft of a motor vehicle, burglary of an occupied dwelling, second-degree theft, trespassing and criminal mischief/damage to property.
A Jan. 24 affidavit seeking the murder charge details an unusual case in which Hawkins allegedly confessed to his sister during a jailhouse visit that he had been planning Morell's killing for more than a decade, even before he met the girlfriend who seemingly tied the two men together.
His sister wore a recording device provided by detectives during the chat.
"I accomplished my life goal, OK?" Hawkins told his sister, according to the recording. "Whatever happens to me after that's fine."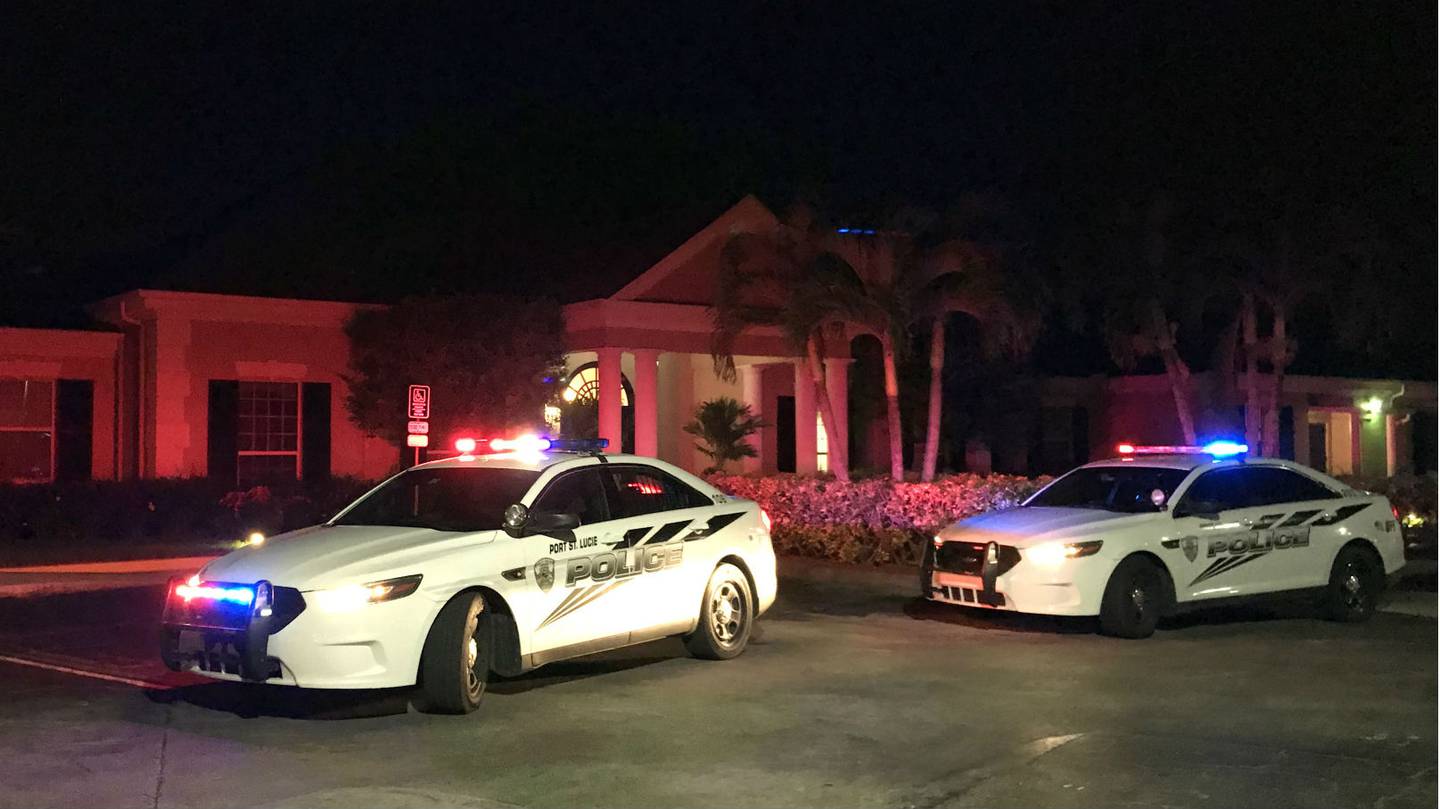 Hawkins told his sister he began searching for Morell when he, Hawkins, was still in college. He claimed that Morell had written a book about him that angered him.
The Washington Post reported that there is no evidence Morell ever wrote a book about Hawkins. Court records did not indicate if the men knew each other beyond their separate relationships with Hawkins' ex-girlfriend, identified in court records as Angeline Bostinto.
Hawkins told his sister he began dating Bostinto, 57, because of her connection to Morell. He also described how he brought a syringe filed with a "cocktail" of unnamed drugs with him to the Tiffany Hall Nursing and Rehab Center, where Morell had been a patient since September.
Hawkins indicated that he was unable to inject the drugs into Morell's feeding tube as planned because the elderly man began fighting him. That's when he said he covered Morell's face with a pillow and suffocated him.
The suspect likened the slaying to climbing Mount Everest.
"Let's say in your life you wanted to climb Mount Everest, OK?" Hawkins said, according to the affidavit. "And all your life, you trained and trained and trained to climb Mount Everest, OK? All right? And finally, you climbed it, in all your life, finally you made it to the top. When you made it to the top, how would you feel?"
A midnight visit
Port St. Lucie police officers were called to the nursing home shortly after midnight Jan. 5 about a possible homicide. Staff members told investigators a man fitting Hawkins' description had walked into Morell's room long after visiting hours, so a nurse approached him to find out why he was there.
"When she entered the room, she observed a white male straddling the victim's body, sitting on his chest holding a pillow to the victim's facial area (and) suffocating him," the affidavit states. "She immediately shouted to the other staff to call 911."
The man "calmly got off the victim, placed his hands in front of his face and ran out of the room," the document says. Staff members saw him flee via a fire exit and run across the parking lot.
Though some of the staff members on duty could not identify the man they saw, at least one worker saw the man's face. She later picked Hawkins out of a photo lineup, according to police.
Hawkins' name first came up when detectives looked at a list of Morell's visitors and learned Hawkins matched the description of staff members who saw Morell's alleged killer. They later discovered that Hawkins had visited the older man at least five times since September.
Bostinto had called the nursing home Jan. 4, less than 24 hours before the killing, to tell the staff she did not want Hawkins visiting Morell. According to police, she had power of attorney over Morell's medical care.
After the attacker left, the nurse who witnessed the suffocation checked on Morell and found him unresponsive, his lips blue. She and other staff members performed CPR but were unable to revive him.
An autopsy later found signs of suffocation, including petechiae in both eyes and a bile-like fluid in his throat, the affidavit says. Morell also had multiple rib fractures, but the medical examiner could not determine if it was caused by his killer straddling him or by staff members' resuscitation efforts after the attack.
Read the affidavit for William Hawkins' arrest below.
Crime scene investigators found a syringe containing an unknown fluid on the floor of Morell's room, the court documents allege. They also collected a pillow found near the victim's head that had apparent bile on it, indicating it was the pillow held over his face during the assault.
Detectives went to Fort Pierce, where Morell and Bostinto lived together in a condo prior to his stay at Tiffany Hall. Bostinto explained that she and Morell, who had been together for about 15 years, had an open relationship, which led to her involvement with Hawkins. She told them she and Hawkins had broken up about four or five months prior to the homicide.
According to the affidavit, Bostinto told investigators Hawkins had snuck into the condo through her bedroom window the morning of Jan. 4. Two friends who were staying with her corroborated her statement, with all three saying Hawkins had grabbed the keys to Bostinto's black 2014 Cadillac and taken it without her permission.
Hawkins returned twice throughout the day and again left with Bostinto's vehicle. During one of his visits, Bostinto told authorities, he spotted syringes Bostinto used to administer insulin to her cat.
He also saw a feeding tube Bostinto was using to practice caring for Morell when he returned home.
"The suspect then indicated to Angeline that she should inject the insulin into the victim's feeding tube in order to kill him," the affidavit says. "Angeline said she immediately rejected the idea and told him no.
"Due to the suspect's comments, Angeline had a gut feeling the suspect was thinking about killing the victim and therefore she called Tiffany Hall to warn them."
Bostinto told detectives Hawkins used her shower and shaved during one of his visits to the condo that day, the documents allege. She told them she allowed him to do so out of fear.
Following the killing and the interview with Bostinto, authorities began searching for both Hawkins and the Cadillac. The vehicle was found Jan. 6 in Fort Pierce, partially submerged in a canal.
A cellphone traced back to Hawkins was found in the vehicle, the affidavit says. Technicians were able to recover the data from the phone, which showed it traveling to the nursing home at the time of Morell's death, the document states.
Hawkins was found Jan. 6 hiding in a shed at his aunt's home in Fort Pierce, at which time he was arrested for allegedly stealing Bostinto's car. The shed was about a half-mile from where the vehicle had been recovered.
@PSLPolice UPDATE: On 1/30, State Attorney's office approved Arrest Warrant for the arrest of William Eugene Hawkins DOB 12/07/72. He's charged with premeditated murder of Robert E. Morell; 95-year-old victim who resided at Tiffany Hall Nursing Home. Ongoing Invest. pic.twitter.com/ctUbrmqkQL

— Port St. Lucie PD (@PSLPolice) February 5, 2020
His aunt told police her dogs had woken around 1:45 a.m. the morning of Morell's slaying.
"She now believes this must have been when the suspect broke into the shed," the affidavit says.
Upon questioning, Hawkins told investigators he ended up in the shed after waking up in the woods, cold and needing a place to sleep.
"He said he has been blacking out a lot and really did not remember anything else," the document states.
Hawkins told detectives he did not remember going to Bostinto's home or taking her vehicle but said if she claimed he stole her Cadillac, she was probably telling the truth. He said he had met Morell before and that he'd helped Bostinto with some work around the condo, including replacing the carpet in the bedroom, which "was covered in feces" since Morell had become ill with Alzheimer's disease.
He admitted knowing where Morell's room was at Tiffany Hall and said he'd driven Bostinto to the facility in the past and had been to visit Morell multiple times. Before saying anything about the man's death, however, Hawkins requested a lawyer and ended the interview.
It wasn't until several days later, through Hawkins' jailhouse conversation with his younger sister, that more details became apparent, according to the court documents.
'It's me. I did it all.'
Shannon Hawkins called Port St. Lucie police on Jan 7, two days after the homicide, and told investigators her brother, who was estranged from his family, had called their mother several times from jail, but the family had not been taking the calls. She told detectives she believed she could get her brother to confess to any crime he may have committed.
She told authorities she believed her brother, who she suspected was on drugs, may have killed Morell for the man's money.
"She said when her father died, they were supposed to get a large inheritance and they didn't," the affidavit says. "Shannon said when she read the articles (in the news) about the murder, she immediately believed it had to do with the victim's money."
Investigators provided Shannon Hawkins with a recording device and dropped her off in front of the jail. Once in an interview room with her brother, their conversation quickly turned to the killing.
According to court documents, William Hawkins told his sister he had committed the crime alone and Bostinto knew nothing about it.
"I (expletive) up, OK?" he said. "But it's me. I did it all."
Hawkins told his sister his tale about the book Morell supposedly wrote about him, stating Morell is the reason he is what he is.
"He's the reason why my life's messed up, OK?" Hawkins said. "He's the reason I keep getting (expletive) over. So I took care of it myself."
His sister asked him directly if he put a pillow over Morell's face.
"Yeah, I did," he said, according to the recording.
Hawkins claimed he used Bostinto to get into Morell's condo.
"I know every inch of 10 miles around that place, OK?" he said. "I've been stalking the (expletive) out of it."
He told his sister he learned nearly 15 years before who Morell was -- and where he lived. He also talked about how hard it was to get into the nursing home, which requires people to be buzzed in after visiting hours.
It was not made clear in the affidavit how Hawkins gained access to the facility at the time of the homicide. He told his sister he was able to walk right by the workers, however, who were distracted when he arrived.
One worker at the desk told police she spotted Hawkins walking by but was on the phone with a patient and could not confront him as he headed toward Morell's room.
Hawkins told his sister about trying to use the syringe on Morell, who he described as being strong for a 95-year-old.
"No one would have known. But he struggled. He fought me," he said. "He fought me hard."
Hawkins is being held without bond in the St. Lucie County Jail.
© 2020 Cox Media Group