SEATTLE — Gov. Jay Inslee announced the state's plan to move up COVID-19 vaccine eligibility to the next two tiers starting from March 31.
Initially, the groups were eligible from April 12 and April 26.
Two million residents will be included in these two tiers, in addition to those that have already been eligible.
The following groups will be eligible for the COVID-19 vaccine at the end of March:
Anyone with two or more comorbidities;
Anyone between the ages of 60 and 64;
Anyone living in congregate settings, for example, correctional facilities, group homes for disabilities, the homeless, etc.;
Additional workers in congregate settings, for example, restaurant workers, manufacturers, construction, etc.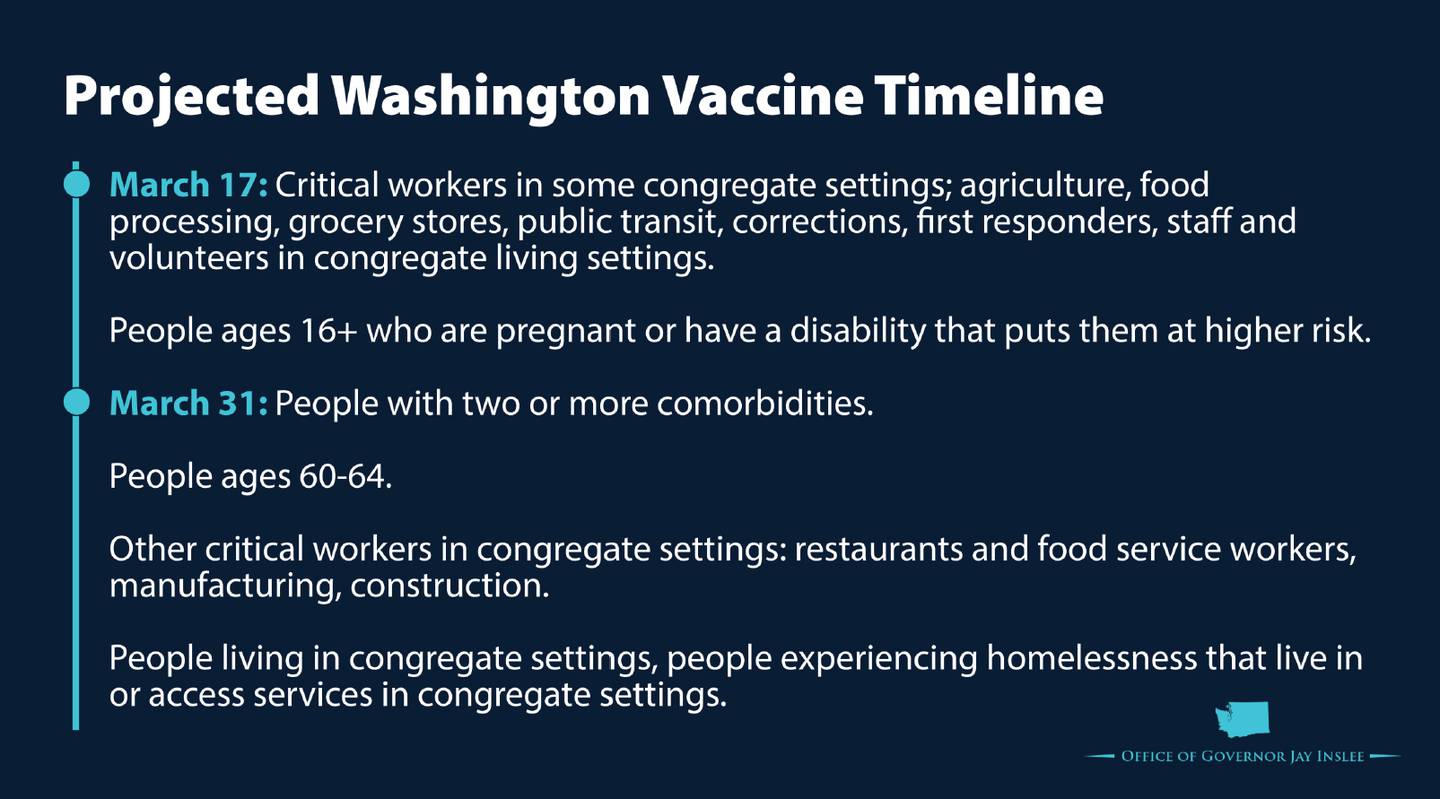 "The second we got those notifications on our phones all of us were super excited, almost like New Year's Eve, just without popping champagne," said Jonathan Van Vliet, a manager at Staple & Fancy in Seattle's Ballard neighborhood.
"I think it should've happened a long time ago but I'm thankful for I nonetheless," said Ariel Brown, another employee at Staple & Fancy. "It's really important considering a large population of service industry workers are part of marginalized communities who don't necessarily have access to the vaccines and are at high exposure," she said.
To make it easier to get vaccinated, the state has also rolled out a new website to help people find one: vaccinelocator.doh.wa.gov. The website aggregates available appointments and shows you when a pharmacy or hospital adds new appointment slots.
New guidelines from the state also open up visiting loved ones in long-term care facilities – one of the first places to shut down more than a year ago.
"This is incredible news for lots of seniors," said Kris Engskov, the president of Aegis Living. "Being quarantined frankly for this long takes a toll on your physical and mental health," he said.
If both parties are vaccinated, you are now allowed to visit inside. Otherwise, the visit must take place outside.
Engskov said 95 percent of their residents across Aegis communities have received the shot. Now they're ironing out details for family visits to start this weekend.
Gov. Inslee also announced that the current statewide moratorium on evictions has been extended through June 30, 2021, and the state's utility shutoff moratorium extended through July 21.
Compassionate care visits are still allowed.
As for future phases, the DOH website indicates by April 19 or 26, people in Phase 2 will become eligible, which would include other critical workers who cannot work remotely. A few examples include bank employees, electricians, and postal staff. The website says, "Example sectors: public health; emergency services; food and agriculture; energy; water and wastewater; transportation and logistics; communications and information technology; community based governmental operations and essential functions; critical manufacturing; hazardous materials; financial services; chemical; real estate and mortgage; mortuary, funeral, embalmer, and cemetery services; defense industrial base."
Cox Media Group