This weekend, stargazers and space junkies everywhere can revel in the celestial wonder of 2017's first and last visible "supermoon."
Here's what you need to know about supermoons and the "Full Cold Moon" this weekend.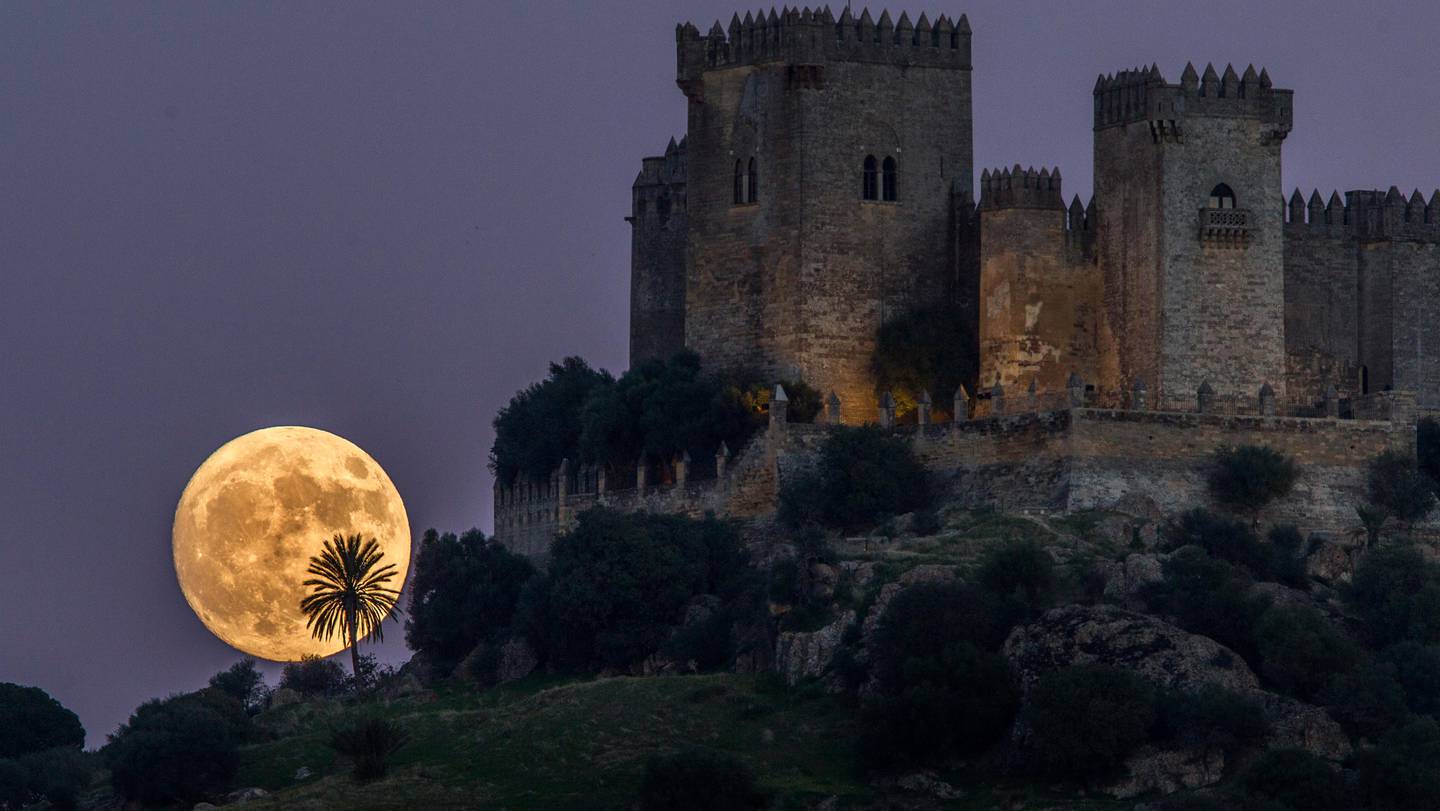 What is a supermoon?
According to NASA, the moniker was coined by an astrologer in 1979 and is often used to describe a full moon happening near or at the time when the moon is at its closest point in its orbit around Earth.
Scroll down to continue reading
Trending headlines
Supermoons may appear as much as 14 percent closer and 30 percent brighter than the moon on an average night.
In much of the northern hemisphere, the December supermoon is considered a "Full Cold Moon" for the seasonal weather.
When will this weekend's supermoon be closest to Earth?
The supermoon will rise Sunday, Dec. 3 and will become totally full at 10:47 a.m. EST.
It will reach perigee (the closest point in its orbit around Earth) at 3:45 a.m. EST on Monday, Dec. 4.
[ >> RELATED: Dazzling Geminid meteor shower to light up the holiday season: How, when to watch ]
How far will the moon be from Earth when it reaches perigee?
At perigee, according to Space.com, the moon will be approximately 222,135 miles away from Earth.
How far is the moon normally from Earth?
The moon's average distance from Earth is approximately 238,000 miles.
[ >> RELATED: See the supermoon shine over Atlanta ]
When is the best time to see the Dec. 3 supermoon?
In Atlanta, the supermoon rises at approximately 5:57 p.m. Sunday, Dec. 3, according to timeanddate.com.
To see the supermoon in all its glory, tune in when it reaches perigee around 3:45 a.m. EST.
Moonset will be at approximately 8:17 a.m. Monday.
If you miss the moon at perigee, don't worry. The large moon will still be around for a few days. It just won't be a complete full moon.
To see when the supermoon will reach perigree where you live, just plug in your city at timeanddate.com and hit the search button.
Where are the best places to see the supermoon?
Wherever the sky is clear and the moon is visible is an ideal place from which to experience the spectacle.
But if you're really up to making an adventure out of it, consider heading to a state park.
[ >> RELATED: Your comprehensive guide to Georgia's state parks ]
Stephen C. Foster State Park in the Okefenokee Swamp is notorious for being one of the best spots in the world for star gazing and is named a gold-tier "International Dark Sky Park."
You can also make your way to one of the nine best places to see stars around Atlanta.
Any of those spots would make great viewpoints for a supermoon, too.
[ >> RELATED: Best spots in Cobb to enjoy the supermoon ]
What is the weather forecast for the Dec. 3 supermoon?
According to Weather.com meteorologist Chris Dolce, parts of the southeast coast (including Florida) have the highest odds of clear skies Sunday.
Depending on how quickly a weather system moves through the northeast and mid-Atlantic regions, those areas may also have good viewing conditions, he said.
[ >> RELATED: Eerie, awe-inspiring: 5 ways to explore Georgia's new Dark Sky Park ]
However, Dolce said parts of the central and western states may experience cloud cover.
"It's too early to pinpoint areas that will have the best viewing conditions since it will depend on the evolution of that weather system and how fast it moves east," he said.
Best ways to photograph the Dec. 3 supermoon?
According to National Geographic, seeing the supermoon near the horizon with buildings, trees or mountains for scale will make the moon appear slightly larger in your photos, even though it isn't.
"Don't make the mistake of photographing the moon by itself, with no reference to anything," Bill Ingalls, a senior photographer for NASA, told National Geographic last year. "Instead, think of how to make the image creative—that means tying it into some land-based object. It can be a local landmark or anything to give your photo a sense of place."
[ Other photo tips from National Geographic staff photographers: ]
Shoot with the same exposure you would in daylight on Earth.
Don't leave your camera shutter open too long. This will make the moon appear too bright and you won't be able to photograph lunar detail.
If you're using your smartphone, use your optical lens only.
If you're using your smartphone, do not use your digital zoom. This will decrease the quality of your photo. Instead, take the photo and zoom or crop later.
Use a tripod or a solid surface to keep your phone stabilized.
Use your fingers to adjust the light balance and capture the lunar detail.
More from National Geographic.
When was the last supermoon?
The last supermoon was on June 24, but it was technically a new moon.
The last visible supermoon was on Nov. 14, 2016 and it was the "closest" full moon to date of the 21st century, approximately 227,000 miles from Earth at perigee.
[ >> RELATED: Photos: Amazing NASA photos through the years ]
When is the next visible supermoon?
The next visible supermoon will rise on New Year's Day: Monday, Jan. 1. At perigee, the moon will be approximately 221,559 miles from Earth.
Learn more about the Dec. 3 supermoon at Space.com.
Cox Media Group