CRYSTAL LAKE, Ill. — The mother of a 5-year-old Illinois boy beaten and forced into a cold shower for soiling himself in April has admitted to her role in his murder, a case that garnered national attention and has led to a federal lawsuit against two social workers tasked with protecting him.
JoAnn Cunningham, 36, of Crystal Lake, pleaded guilty Thursday to one count of murder in the death of Andrew "AJ" Freund Jr., according to a statement from the McHenry County State's Attorney's Office. She faces between 20 and 60 years in prison.
"Pursuant to truth-in-sentencing guidelines, defendant Cunningham will not be eligible for parole and must serve 100% of her sentence," State's Attorney Patrick D. Kenneally said in the statement.
A status conference in Cunningham's sentencing is set for Jan. 30, court records show. As part of her plea deal, the remaining 19 charges against her have been dismissed.
AJ's father, attorney Andrew Freund Sr., 60, faces 21 charges, including multiple counts of first-degree murder. Freund, who has pleaded not guilty, is being held in the McHenry County Jail in lieu of $5 million.
>> Related story: AJ Freund's parents killed him for soiling himself, hiding it, court documents allege
Cunningham and Freund were arrested April 25, a week after Freund called 911 and told dispatchers his son had vanished from their home overnight. Cunningham was pregnant at the time with the couple's third child.
She gave birth in June to a daughter, who CBS Chicago reported she named Gracie Faith. Cunningham spent two days in the hospital with the newborn before the child was placed in state custody, the news station said.
Authorities looking for AJ following the April 18 missing persons report soon focused their attention on the Freund-Cunningham home at 94 Dole Ave. in Crystal Lake, a city of 40,000 people about 45 miles northwest of Chicago. According to court records, K-9 units found no sign of the boy's scent outside of the home.
No Amber Alert was issued because there was no evidence AJ had been abducted, police officials said.
Listen to the 911 call placed by Andrew Freund Sr. below, courtesy of the Chicago Tribune.
A criminal complaint in the case indicates AJ died April 15, three days before his parents reported him missing.
Cunningham and Freund "forced (AJ) to remain in a cold shower for an extended period of time and/or struck him on or about his body" multiple times, causing his death, the complaint against Cunningham states.
>> Related story: AJ Freund's parents indicted in 5-year-old's beating, cold shower death
An affidavit for a search warrant filed April 29, and later published by the Northwest Herald, details AJ's horrific death. Editor's note: The following description of AJ Freund's life and death are graphic and may be difficult for some readers.
'Maybe Mommy didn't mean to hurt me'
The affidavit, written by Detective Edwin Maldonado of the McHenry County Sheriff's Office, details the investigation that began when Crystal Lake police officers went to the Freund-Cunningham home, which Maldonado described as being in a "hoarder-like condition." Bags of refuse filled the basement, as well as other portions of the house and the detached garage.
Photos from around the time of AJ's birth in 2013, obtained by ABC7 in Chicago, show the dirty and cluttered condition of the home.
AJ spent almost the first two years of his life in foster care because he was born with opiates in his system, police said.
Read the criminal complaint against JoAnn Cunningham below.
Cunningham Criminal Complaint by National Content Desk on Scribd
The news station also obtained reports of 17 visits to the house by social workers over the five years of AJ's life. The reports document horrid living conditions, concerns over the welfare of AJ and his then-4-year-old brother, Parker, and alleged drug use by the parents.
Caseworkers from the Illinois Department of Children and Family Services were last called to the family's home in December 2018, after police were called about a possible burglary there. The responding officer noted deplorable living conditions inside the home, including dog feces and urine all over the house, broken and jagged flooring in the kitchen, a ceiling peeling from water damage and several broken windows.
She also noted a suspicious bruise on AJ's hip and temporarily removed him and Parker from the home. Police reports said AJ and his mother both said the bruise was caused by the family's dog, Lucy, but a DCFS timeline of its involvement in AJ's life indicates that AJ told a different story to an emergency room doctor when his mother was not around.
"Maybe someone hit me with a belt," AJ told the doctor, according to the DCFS report. "Maybe Mommy didn't mean to hurt me."
The doctor could not definitively determine the cause of the bruise, despite AJ's statements, and the case was closed a month later.
Read the DCFS timeline of AJ Freund's life and death below.
AJ Freund DCFS Timeline by National Content Desk on Scribd
Maldonado wrote in the affidavit that a check of the Crystal Lake Police Department's database showed numerous previous calls to the family's home, mainly for welfare checks and domestic violence complaints. Both Freund and Cunningham are admitted former drug abusers.
DCFS workers came under fire after AJ's death for their handling of his case. Acting DCFS Director Marc Smith told legislators in the aftermath of the boy's slaying that two caseworkers were suspended as the agency conducted an internal investigation.
Sources told CBS Chicago in October that the agency was planning to fire the two caseworkers, as well as their supervisor. The estate of AJ Freund filed a federal lawsuit on the boy's behalf Oct. 16 against one of the caseworkers, Carlos Acosta, and the supervisor, Andrew R. Polovin.
The suit alleges the DCFS caseworkers "conducted sham investigations and filed reports which included falsified findings intended to justify their determinations that the allegations of abuse were 'unfounded.'"
It accuses Polovin of failing to act as a fail-safe, instead ignoring the "patent deficiencies and obvious prevarications" in the investigators' reports and blessing their findings that AJ and his brother were in no danger.
Read the federal lawsuit filed in October by the estate of 5-year-old AJ Freund below.
Federal Lawsuit in AJ Freun... by National Content Desk on Scribd
'AJ fell down the stairs and had a lot of owies'
Multiple law enforcement agencies began searching for AJ after he was reported missing, but his parents became the focus of the investigation after it was determined AJ likely did not leave the house on foot, authorities said.
A forensic search of Freund's cellphone, conducted with his permission, found that someone had Googled "child CPR" on April 15, the night AJ was slain, the affidavit said. Freund's cellphone also held a photo of a shopping list, which included duct tape, plastic gloves, bleach and air freshener.
Investigators found inside the house a pair of men's Nike shoes with "dripping wet mud" on the soles. They also found a bag of laundry that smelled strongly of bleach and four empty bleach bottles in garbage bags and cans around the property.
A laptop and a roll of duct tape were found in an upstairs closet, the affidavit said.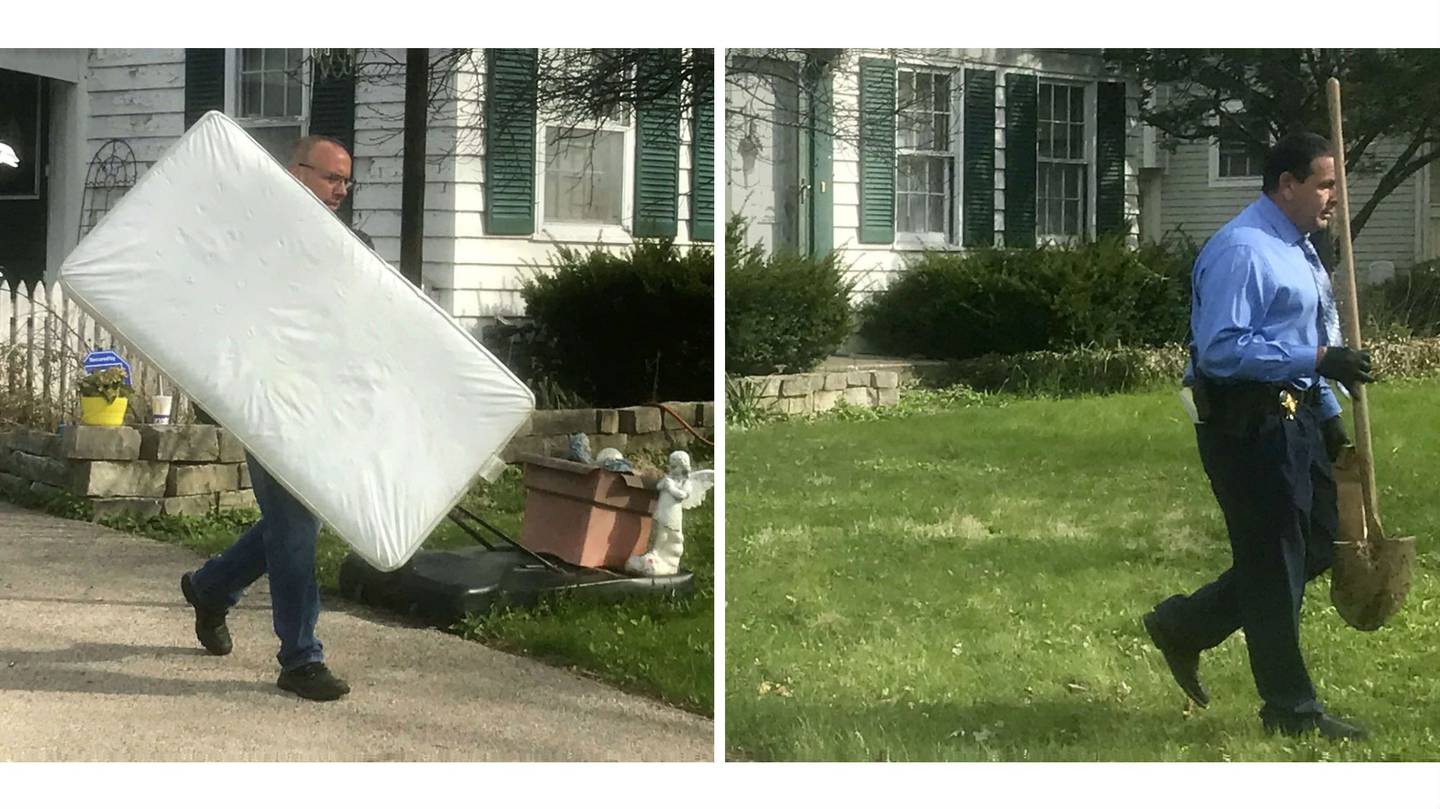 During interviews with investigators on April 18, Freund told them he discovered his son was missing when he returned home around 8:30 a.m. from an early morning doctor's appointment in Elgin, about 15 miles south of Crystal Lake. Police confirmed Freund's appointment, but the receptionist who checked him out shared an odd comment he allegedly made.
"The lawyer in me thinks I need a paper trail," she quoted Freund as saying when she offered him a receipt of his payment, Maldonado wrote.
When he was initially asked about the shopping list found on his phone, Freund listed the items he bought, but left off the gloves and duct tape. He ultimately admitted he bought those items, but claimed the gloves were for cleaning and his wife used duct tape to hang photos, the affidavit said.
When the topic of the "child CPR" search came up, Freund said his wife -- who was, at the time, seven months pregnant -- may have Googled the topic because of the impending arrival of the baby.
When detectives asked why she would need that information after already raising two young sons, Freund had no answer, the affidavit said.
The topic of the interview then turned to discipline.
"During the interview, Drew explained that AJ's mother believed AJ had oppositional defiant disorder, ODD," the document stated. "Drew explained AJ thinks of himself as the leader of the home and therefore, he is defiant to his parents, lies, disobeys and thinks things should go his way."
Freund admitted that he and Cunningham sometimes locked AJ in his room at night.
Detectives asked Freund about a time when AJ had to be punished in that way. Freund told them about a time AJ was locked in his room for five hours after doing a poor job washing dishes and stacking them improperly.
He claimed AJ lied about who stacked the dishes and needed to be punished, the affidavit said.
Investigators interviewed Parker Freund on April 19, Maldonado wrote. Parker had been placed in DCFS custody after AJ was reported missing.
The little boy told interviewers that his mother told him AJ "fell down the stairs and had a lot of owies" while Parker was asleep. According to the affidavit, Parker also told authorities he was told by his parents not to talk about AJ.
A chilling video, a tragic end
The next day, Freund was again brought in for questioning, the affidavit said. The topic of the duct tape again was brought up, and Freund said duct tape could be used for a lot of things.
One thing he mentioned was taping a Rubbermaid tote shut.
Maldonado wrote that he had seen several Rubbermaid totes in the family's basement, including at least two big enough to hold the body of a 5-year-old child. Neither contained a body, however, and neither had duct tape on them, the investigator wrote.
Further forensic analysis of both Freund's cellphone and Cunningham's phone found text messages and other items that had been deleted.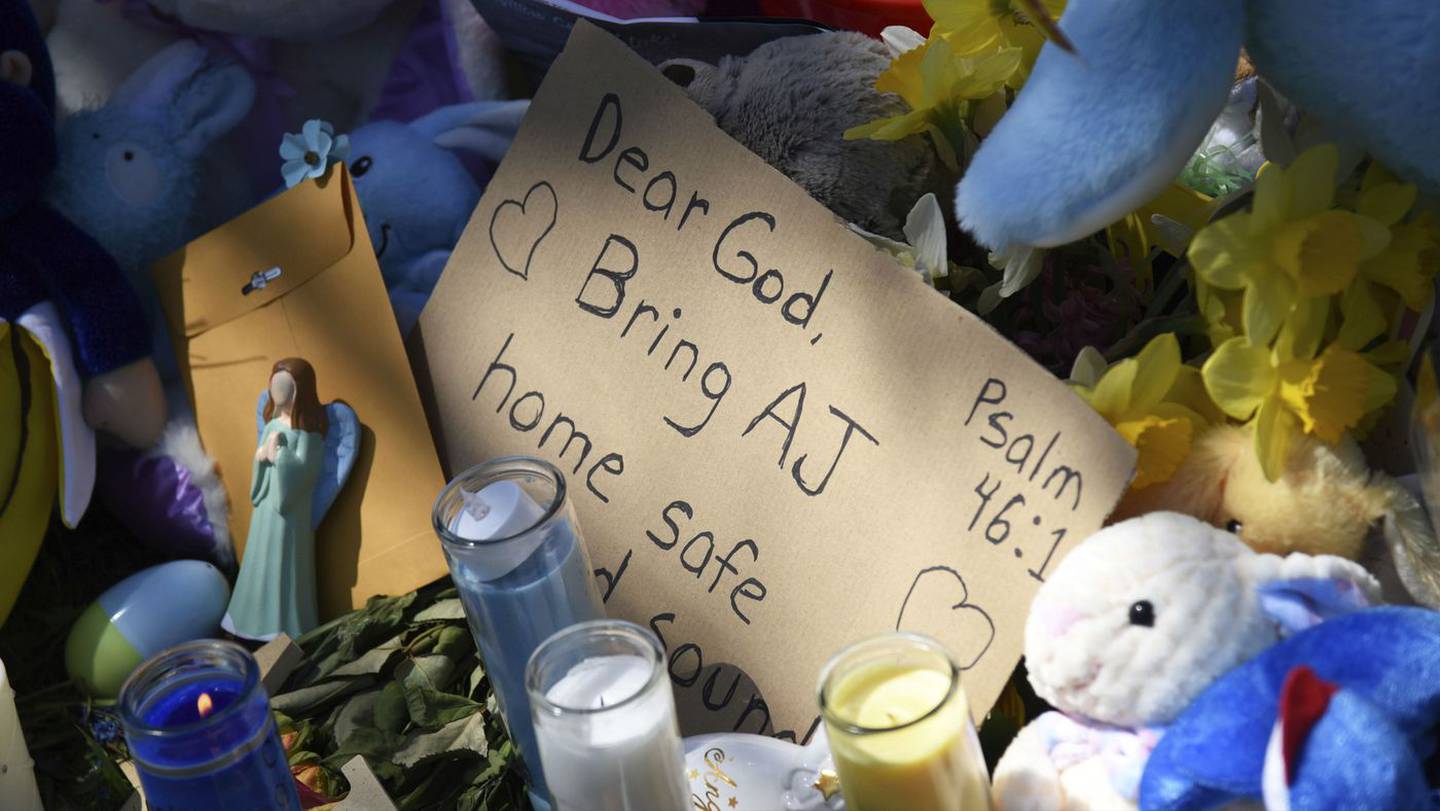 Included in those deleted texts were messages Cunningham sent to a friend complaining about AJ's behavior, which she attributed to the oppositional defiant disorder she believed he had, Maldonado wrote. The entirety of the exchanges was found on the friend's phone, the court document said.
Investigators also obtained from Apple a chilling two-minute video that had been deleted from Cunningham's phone. The timestamp on the video was March 4, more than a month before AJ died.
"AJ is seen laying on a bare mattress in a crib in a room I recognized to be his bedroom from 94 Dole Ave.," Maldonado wrote in the affidavit. "In the video, a female with a voice consistent with JoAnn's is holding the phone and videotaping. She is berating AJ for urinating on his bed.
"AJ is seen to (be) naked except for some small bandages around both wrists and circling his hips. AJ is seen to be holding an ice pack to his face and when he removes it, he is seen to have deep red bruising around his eyes, and yellowish-greenish bruising around his neck and upper chest."
Maldonado wrote that it did not appear that AJ received medical treatment for the beating he seemed to have suffered.
It was when he was confronted with the video from Cunningham's cellphone that Freund admitted their son was dead, the detective wrote.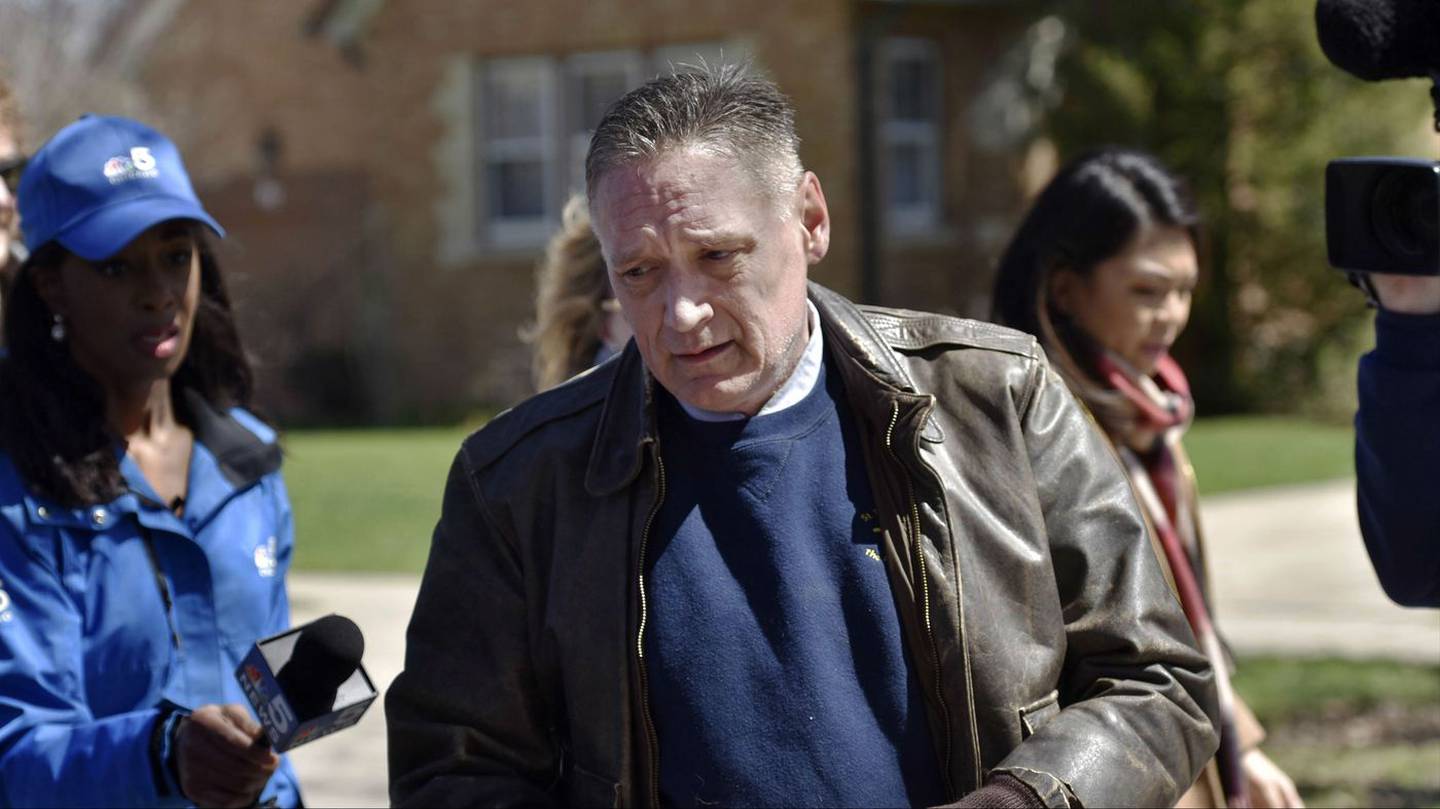 According to the affidavit, Freund told detectives the injuries seen in the video were caused by his wife. He also told them he believed his son died April 15 after being forced into a cold shower for a prolonged period of time.
"Drew explained he wanted JoAnn to stop with the hard physical beatings and do some less violent form of punishment," Maldonado wrote. "Drew said cold showers was decided (upon)."
Freund then told investigators AJ had soiled his underwear the night of April 15 and lied about it, so he was forced into a cold shower for about 20 minutes. He said he helped his son out of the shower afterward and put him to bed.
AJ was "cold, wet and naked" when he was put to bed, the affidavit said.
"Drew said JoAnn got up and checked on AJ and that was when she got Drew and she used Drew's phone to search for child CPR," the document said.
Freund said he realized at that time that his son had died. He took AJ's body down to the basement, where he stored it in a Rubbermaid tote for the next two days, the affidavit read.
On the night of April 17 -- the night the couple initially claimed they'd put AJ to bed after "brushing teeth, washing hands and saying prayers" -- Freund wrapped his son's body in several trash bags, placed him in the trunk of his car and drove him to a wooded area near Woodstock, about 8 miles from home.
There, he dug a shallow grave, placed AJ's body in it, covered him with straw and left, the affidavit said.
Freund led investigators to where he buried his son, Maldonado wrote. The boy's body was recovered April 24.
Freund is awaiting trial, which is slated to take place sometime next year, CNN reported. Kenneally, the prosecutor, told the network it was not yet clear if Cunningham would testify in her husband's case.
Illinois state records show Freund, who was admitted to the state bar in 1984, was suspended from practicing in July, following his arrest and indictment in his son's death.
Cox Media Group